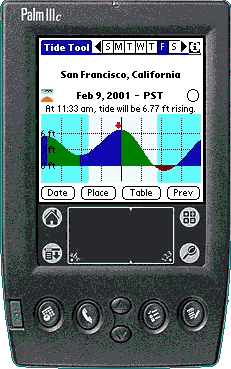 Page last updated June 23, 2009
---
Download Tide Tool
Version 2.2, 851,590 bytes, posted 2/17/04
A stable beta version of Tide Tool is now available to incorporate the 2007 U.S./Canada Daylight Savings Time change and more recent NOAA tide data. Use this version instead.
If you are installing directly from this page into your Palm device, follow the directions below. (And when you're done, please read the instructions.)
CAUTIONS:
If you encounter problems installing or running Tide Tool, feel free to delete the files in disgust, but please email me and report the problem, so I can fix it. Thanks. (If you want to solve the problem, please read the FAQ first.)


Tide Tool uses unverified tide and current data which comes from many sources and has not been exhaustively tested. Check Tide Tool against your local tide tables to verify the data for your location. Do not rely exclusively on this software where safety of life and property is at risk.
---
The source code for Version 2.1a is available under the terms of the Gnu General Public License. Among other things, this means that you can not use it for any commercial product. Sorry.
1. Install tidetool.prc
The program file
2. Install TideArgs.pdb
Data for the tide computation algorithm
3. Then install one or more of these regional databases. Only install the ones you might need. If you find later that you don't need some, delete or disable them.
Massachusetts to Maine
Newport, R.I. to Cape May, N.J.
Cape May NJ to Virginia.pdb
Cape May, N.J. to Virginia
North Carolina to Georgia
Florida (east of Sarasota )
Gulf Coast, and Florida ( Sarasota west)
Alaska
West Coast of the U.S.
East Coast of Canada and N. Atlantic ocean (s. of 47º N)
East Coast of Canada and N. Atlantic ocean (47º N to 53º N)
East Coast of Canada and N. Atlantic ocean (n. of 53º N)
West Coast of Canada (s. of 49.5º N)
West Coast of Canada (49.5º N to 51º N)
West Coast of Canada (n. of 51 N)
Caribbean , Central and South America (n of the equator)
Mexico
South America (s of the equator)
Great Britain.pdb
The British Isles. (No locations in Eire are available in this release.)
Europe (n. of 46.5º N) including all of Russia , but excepting the British Isles (note above)
Mediterranean , including Europe (s. of 46.5º N) and Africa (n. of 31º N)
Africa (including Asia Minor w. of 60º E)
Asia (e. of 60º E), excluding Japan . Includes Indonesia and the Philippines
Japan SW.pdb
Southwest half of Japan (west of 134º E)
Northeast half of Japan (east of 134º E)
Islands of the Pacific west of 131º E including New Zealand, Tasmania and Papua/New Guinea
Australia (except Tasmania )
Back to Tide Tool home page.
---