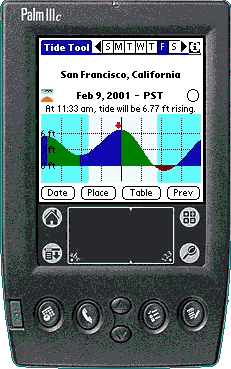 Page last updated March 17, 2007
Tide Tool 2.3 Beta
Version 2.3 beta 4, 994,655 bytes, posted 3/16/07
Caution: This is "beta" software. It has been tested by a handful of knowledgeable users, and is believed to be free of nontrivial problems. But it has not been widely used.

If you encounter problems installing or running this version, please email me and report the problem, so I can fix it. Please include any error message you get, and tell me how you got it. Thanks.
What's New in Tide Tool 2.3:
This is a relatively minor update, mainly to incorporate Daylight Savings Time changes.
Conforms to 2007 Daylight Savings Time changes for U.S., Canada and Western Australia
Incorporates latest NOAA data for U.S. tides
Some minor bugs and annoyances have been fixed (or at least improved), including neater use of expansion memory directories.
Covers years 1905 - 2031
The locations database in this version is partially updated.
U.S. tidal location data (except Hawaii) are from the NOAA web site as of Feb. 2007. Many places and place names have changed from the last release. Before reporting a missing or misnamed location, please check the location on NOAA's tide prediction pages.
U.S. currents, and all other tidal locations, are unchanged from the previous version.
Some locations near the border of a region may have slipped into the adjacent region, or been omitted.
Some or all of these may be further updated before the final release of version 2.3.
---
CAUTION: Tide Tool uses unverified tide and current data which comes from many sources and has not been exhaustively tested. Check Tide Tool against your local tide tables to verify the data for your location. Do not rely exclusively on this software where safety of life and property is at risk.