California Cape Dory Owners Association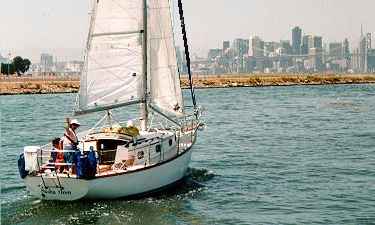 Cape Dory built sturdy, salty sail and powerboats in New England for over a quarter century, and many of their designs are still in production at several locations. A number of these boats have found their way to California, where the California Cape Dory Owners Association was founded in 1994 to share stories, Cape Dory information, and food and drink.


| | |
| --- | --- |
| Last updated Feb. 23, 2016. | |
Eight Bells - Noel Peattie (1932 - 2005)
We sadly report that Noel Peattie, an early member of the California Cape Dory Owners Association and editor of our newsletter from about 1998 to 2000, passed away on Jan. 13, 2005 in Davis from complications following hip replacement surgery.
Noel was an avid sailor, sailing his Typhoon Daysailer Fair American on San Francisco Bay until shortly before his death. He published The Typhooner, a free newsletter "for owners of Cape Dory Typhoon sailboats, and other Cape Dory sailboats, as well as for those who want to own one, and those who once owned one, and now realize that selling the neat little boats they had was the biggest mistake of their lives."
A retired librarian at the University of California, Davis, and a published author and poet, Noel brought a gracious and erudite style to the Northern California Cape Dory community.
On Our Web site:

New: All 18 issues of Noel Peattie's Typhooner newsletter.


Cape Dory License Plate Frames. Yes, we know your Cape Dory doesn't have license plates - these are for your car. Check them out at our Quartermaster's Shack.

More about the California Cape Dory Owners Association:
The CCDO is open to anyone who owns or is interested in Cape Dory boats (but is active primarily in California; see note below). Our purpose is to swap information, admire each other's boats, and periodically converge to share food and drink. Founded in 1994, the group consists of about 75 Cape Dory owners in California and adjacent states (as of January 1999), and about 100 elsewhere. Most of the boats are standard Cape Dory sailboats, but the California fleet also includes 4 power boats, 3 motorsailers and 11 Typhoons.

We do two kinds of things: local and global. Global stuff is of interest to Cape Dory owners everywhere, like this Web site, and parts of our newsletter. Local stuff is getting together a couple of times a year around San Francisco Bay. We have lots of members elsewhere in California, and outside California for that matter, and would be delighted to help if someone wanted to organize a get-together in their neighborhood.

Standing rules: No bylaws, no Robert's Rules of Order. Anyone wishing to lend a hand, let us know your duties and job title, and you're appointed. We have a newsletter of sorts, CCDO Notes, published now and again. We only mail it to members in California and adjacent states. If you have any Cape Dory news, email it to our Commodore, Sandy Smith.
(In case you're interested, the above photo - from our 1997 Rendezvous - includes, seated from left, Staf Commodores Dick Honey and Jo Anne Kipp, founding Staff Commodore Mike Fahy, founder Sandy Smith, founder, Staff Commodore and your friendly Webmaster Walt Bilofsky, and (standing) Noel Peattie. And lots of other good folks.)

Photos of members' boats, and pictures and stories from our float-in get-togethers of past years.
All Cape Dory owners are welcome as members, and may purchase and use the CCDO burgee and hat.
To keep expense and hassle down, we'll only mail the hard-copy newsletter to members in California and adjacent states. Since most of our non-California members are from the Internet, we'll post most of the newsletter material on the Web site.

The main benefits of CCDO membership are the sheer pride of belonging and the right to the burgee and hat. Everyone's welcome on the Web site, member or not, and the newsletter doesn't go out often. But membership doesn't cost anything either. So if you own a Cape Dory and want to be a member, email or snail mail us with the following info. Feel free to leave out any details you don't want to share.

Name, address, home/work/fax phones
Email address
Your Cape Dory's model, year, hull number, name, and marina
Your yacht club, if you belong to one


Dues? Well, not really. We don't spend much money, and we more or less cover our postage by selling our burgees. And our founding Chairman, Mike Fahy, made up some of these beautiful California Cape Dory Skipper hats. For pictures and ordering info, see the Quartermaster's Shack.

If you're not in California, you might also take a look at the Cape Dory Sailboat Owners Association.

California Boating Info:
About our wallpaper: The background images on these pages show two Cape Dory boats, the 30' motorsailer and the 30' flybridge powerboat. Neither is among the most common Cape Dory boats, but as it turns out, the founding fleet of the California Cape Dory Owners Association consisted of these two boats and a 28' powerboat. Of the 70 or so Cape Dorys that have joined us since then, ninety percent are normal Cape Dory sailboats. We've finally updated the wallpaper on some of the other pages on this site, so more models are represented. Browse around.
Disclaimer: The CCDO is a private voluntary social club. The CCDO and this Web site are not associated with and do not represent Cape Dory Yachts, which is a division of Newport Shipyards Corp., nor any of the other businesses or individuals mentioned herein.
These pages created and maintained by Walt Bilofsky, Webmaster.