Walt's Boxster® Pages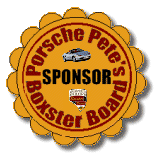 THIS IS AN OLD (but maybe still interesting) WEB PAGE.
It was last modified October 27, 2001.
This is an unofficial Web site - see disclaimer below.
There are lots of great pages on the net celebrating this exciting Porsche roadster (see links below for a start) - so this doesn't try to be one of them. But I've put together some useful and interesting odds and ends for Boxsterowners and Boxsterwaiters:
Walt's Boxster Pages:
TBHL Planning Survey: A report based on the on-line survey taken in June 2001 to determine preferences for future TBHLs and other Boxster gatherings in the Western U.S.

Photo album from The Boxsters Have Landed III.

Pictures and tales from The Boxsters Have Landed II.

BoxsterFest V: New venue - Moss Beach Distillery (with more than one kind of spirits). New record - 29 Boxsters. December 5, 1998.

BoxsterFest III: San Francisco Bay area Boxstervolk visit Sterling Vineyards in the Napa Valley wine country, September 20, 1998..

BoxsterFest II: More Boxsters, more accessories, more fun. More pictures of the S.F. Bay Area 21-Boxster drive-in June 20, 1998.

Aspheric Mirrors:Wondering about these wide-angle replacement outside mirrors for Boxsters? Here are explanations and pictures of what they do, and how they install.

Beach Boxster Bingo: Lots of pictures and a report on the first Half Moon Bay Boxsterfest and caravan, May 16, 1998.

1999 Boxster Order Guide and Options List: I have removed my older version and will just refer you to the more up to date list in the Boxster FAQ.
Boxster Boot Screen: Need something good to watch while your Windows is going up by itself? (Windows 95 or 98, of course.) Just download this file into the top-level directory c:\ on your hard drive. Then boot up and listen to the throaty sound of your hard drive (use imagination). Tips: If you already have a file named c:\logo.sys, rename it first. If you have a 256 color display (e.g., some laptops), this file will look better - save it as c:\logo.sys.

Boxster Order Schedule: Boxsterwaiters want to know how long it takes for a Boxster to move through the long process of being ordered, built, shipped and delivered. This page gives the stages and dates for half a dozen different cars.

Extended Service Contracts: Many Boxster owners have been taking an interest in these add-on repair contracts - especially the 1998 Boxster owners who Porsche left in the lurch with a worst-in-the-industry 2 year warranty. This chart compares a few such contracts and discusses some of the pitfalls.

Boxster Photo Album: The obligatory photos of our Boxster. Also, in gratitude for the many photos people posted on the Web that helped us order our car, I've provided closeup shots of a few options: lumbar supports, power seat and heated seat controls, and the fabled illuminated vanity mirror.
Other Boxster Pages:
Porsche Pete's Boxster Board: Where Boxster owners and Boxsterwaiters meet to discuss the latest Boxster tips, rumors, manufacturing delays and aftermarket gadgets. If you want to know more about the Boxster than your salesman, here's where to start.

The Boxster FAQ: Oodles of commonly asked questions and answers about choosing, ordering, waiting for, caring for and adding to your Boxster.

Boxster dot Org: Boxster news and views, pictures, and lots of links to the many other Boxster pages on the net.

Official Web Site: Porsche Cars of North America, from whom all Boxsters flow (at least in the U.S. and Canada).
By the way ...perhaps you think I got lazy and used the default gray background for these pages. If so, you're wrong - it's Arctic Silver. :-)
Disclaimer: This is an unofficial Web site to support, inform and educate owners and fans of Porsche Boxster automobiles. This Web site is not associated with and does not represent Porsche AG or Porsche Cars of North America, nor any of the other businesses or individuals mentioned herein. Porsche® and Boxster® are registered trademarks of Dr. Ing. h. c. F. Porsche AG.